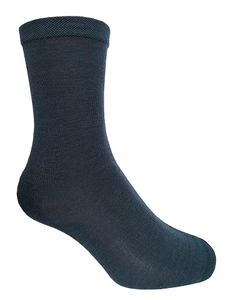 Designer Textiles Merino Classic Blueberry
Regular price $13.00 Sale
or 6 weekly interest-free payments of

$2.16
What's this?
65% Merino 32% Nylon 3% Elastane
Breathable and temperature regulating.
DS Merino and wool cashmere socks use the latest technology and the very best  yarns . The socks are knitted on fine gauge machines making them suitable for most types of Footwear but still providing the comfort , warmth and foot protection required .
The key features of the socks are the low powered tops to prevent compression on the legs , Nylon reinforcing to enhance durability.
Some styles have cushioning in the sole for superior comfort , There are seamless  toes on most styles preventing abrasion and they are  knitted  with elastane to provide a second skin fit